Feniosky Peña-Mora Appointed as Dean of Tec Monterrey's School of Engineering and Sciences
Editor's note:
Previously published 2/13/23.
June 20, 2023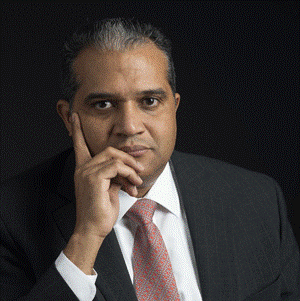 Feniosky Peña-Mora, Edwin Howard Armstrong Professor of Civil Engineering and Engineering Mechanics, has been appointed Dean of the School of Engineering and Sciences at Tec Monterrey University starting July 1, 2023, by Juan Pablo Murra Lascurain, the Rector for Higher Education at Tecnológico de Monterrey.
Internationally recognized for his expertise in construction engineering and management, Peña-Mora's research focuses on information technology support for change management, conflict resolution, sustainable construction, disasters preparedness, response, and recovery, as well as visualization and processes integration during the design and development of large-scale civil engineering.
 "We are very proud that Tec Monterrey University has selected Feniosky Peña-Mora as its Dean of the School of Engineering and Sciences," said Columbia Engineering Dean Shih-Fu Chang. "As an experienced leader in construction management,  Professor Peña-Mora has developed a strong initiative at Columbia, where he oversees the Center for Buildings, Infrastructure, and Public Space. He has also, as Commissioner of NYC's Department of Design and Construction, made major contributions to New York City's construction landscape. We celebrate his new appointment and look forward to seeing his future successes in this important leadership role."
Prof. Peña-Mora currently serves as Executive Director of Columbia University's Center for Buildings, Infrastructure and Public Space. From 2014 to 2017, he was on a three-year public service leave, serving as Commissioner of the New York City Department of Design and Construction (DDC), the largest municipal capital construction agency in the US, with over 1,200 projects valued at more than $15 billion undertaken by more than 1,400 employees and 1,300 consultants. Under his leadership, more than 860 construction projects, valued at more than $9 billion, were started or completed. In addition, the agency received more than 80 awards and executed more than $5.4 billion in new contracts.
Prior to DDC, Prof. Peña-Mora was the Dean of the Fu Foundation School of Engineering and Applied Science and Morris A. and Alma Schapiro Professor of Engineering at Columbia University. In this post, he was responsible for setting the school's strategic direction to reinforce its position as one of the world's premier institutions. During this time, over $75 million of new funding was raised, and the number of endowed professorships nearly doubled. He led Columbia University's participation in the NYC economic development initiative that resulted in the world-leading Columbia University Data Science Institute.
Previously, Prof. Peña-Mora was Associate Provost and the Edward William and Jane Marr Gutgsell Endowed Professor at the University of Illinois at Urbana-Champaign. Before joining the faculty at Illinois, Peña-Mora was the Gilbert W. Winslow Career Development Professor at the Massachusetts Institute of Technology, where he earned his Master of Science and Doctor of Science degrees. He has been a visiting professor at many leading academic institutions in the UK, China, Switzerland, and Australia.
"I am very excited to join Tec; I was very impressed by their new Tec 21 experiential educational model, emphasizing challenge-based learning within a framework of personalization and flexibility to allow students to explore, focus and specialize as they go through their program. In addition, I was drawn to their 2030 vision aiming to educate leaders at the service of others, innovators who improve the quality of life of people and the planet; and entrepreneurs that reinvent themselves and their surroundings. Lastly, based on my experience, I felt that I could contribute to their 2025 Strategic Plan focusing on the three "I"s of investigation (research), innovation, and internationalization," said Prof. Peña-Mora.
Prof. Peña-Mora holds six patents. He has over 230 academic publications and has been recognized with the Presidential Early Career Award for Scientists and Engineers (PECASE), the National Science Foundation CAREER Award, as well as numerous awards from the American Society of Civil Engineers, including the Walter L. Huber Civil Engineering Research Prize, the James R. Croes Medal, the Computing in Civil Engineering Award, the Construction Management Award, and the Best Paper Awards for articles in the Journal of Computing in Civil Engineering, Journal of Construction Engineering and Management, and Journal of Management in Engineering. He is a fellow of the Chartered Institute of Buildings (CIOB) as well as an elected member of the Dominican Republic Academy of Sciences, and the United States National Academy of Construction.
The Tecnológico de Monterrey is a private and non-profit multicampus university system. Since its founding in 1943, it has stood out for its academic excellence, educational innovation, entrepreneurship, and internationalization, as well as its link with industry and employers. It has campuses in 29 cities in Mexico, more than 7,000 professors, and a student enrollment of more than 94,424, from high school students to college, graduate, and professional students. It has been recognized as the best private university in Mexico, the fourth university in Latin America, and the  30th private university worldwide.
Prof. Peña-Mora will lead the School of Engineering and Science with over 25,000 undergraduates, nearly 2,500 graduate students, close to 300 full-time research-intensive professors, over 500 full-time teaching professors, and 3,000 part-time faculty at its 26 campuses.
In making the announcement Juan Pablo Murra Lascurain, Tec's Rector for Higher Education, noted that "under the leadership of our new dean and with the commitment and collaboration of the great team accompanying him, I am confident that we will achieve our purposes and dreams as a School and Institution.